The first area of theme footer is a widgetized section which you can displays them into 1-4 columns. This content can be organised in WordPress Dashboard > Appearance > Widgets
Setup Footer Sidebar
First you have to enable it. Go to Appearance > Customize > Footer > General < Footer Sidebar Columns
Select number of columns to display from 1-4 columns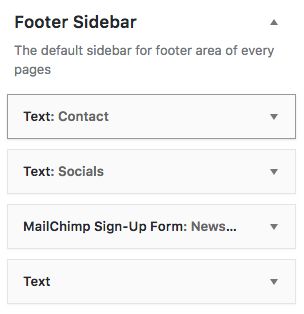 Setup Footer Sidebar Widgets
To add widgets, go to Appearance > Widgets
You will find "Footer Widget" section. Simply drag and drop widgets you want from the left side boxes into the "Footer Sidebar".
Setup Footer Colors
You can change footer background color, font color and etc. Go to Appearance > Customize > Footer > Colors once finish customising. Click "Save All Changes" button.
Setup Footer Photostream

You can enable photostream options from Appearance > Theme Setting > Social Profiles. You can displays photostream from Flickr/Instagram account.
Setup Copyright Bar 
Below the widgetized area of footer is copyright bar where you can add your  copyright text including link to it. Go to Appearance > Customize > Footer > Copyright 
The go to top option if you enable it. It will display arrow up button when visitor click on it. It will redirect to the top of page.